Oshawa, Ontario
Plumber Services
Hire a Good Plumber in Oshawa
For 17 years, Drain Rescue's plumbers Oshawa have been leading providers in the industry. We believe that a "good plumber" is not only a highly skilled technician but also a friendly, customer-focused professional. At Drain Rescue plumbers Oshawa, we're always there for our customers and we put their needs first. We have a talented team of licensed plumbers in Oshawa that's capable of solving even the most complex plumbing problems.
Emergency Plumbing Repairs
Dealing with a leaky shut-off valve? Did a pipe burst in your home? Do you have a flood? There are many potential plumbing issues that call for an emergency response and that can happen anytime – most likely when you least expect it.
Turn off the water in your home from the main water shut-off valve (as long as that isn't the device that's malfunctioned on you).
Call an emergency plumber in Oshawa.
Drain Rescue's emergency sewer and drain services in Oshawa are available 24 hours a day, 7 days a week. Day or night, we pick up our phones and we always arrive at your doorstep within an hour to help.
Plumbers Oshawa Service Areas
We service residential and commercial customers in Oshawa as well as the following surrounding areas:
Clarington
Cedar Dale
McLaughlin
Port Perry
Scugog
Drain and Sewer Plumbing Issues in Oshawa
The plumbing system in your home is intricate and complex – and so are some of the problems it can encounter over the years. But there are a few very common drain and sewer issues that many of our customers face at some point throughout their property ownership years, such as:
Sewer plugs and backups
Leaky pipes and shut-off valves
Slowly moving drains in showers or bathtubs
Clogged toilets
Clogged drains
Main water line blockages
With years of experience, formal training and knowledge of your area's regulations and bylaws, our Oshawa plumbers are equipped to handle any drain or sewer problem – from the smallest pin-hole leak right through to the largest floods.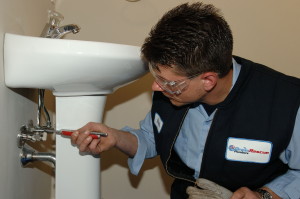 Industrial Drain Cleaning
More often than not, all that is required to fix clogs, plugs and backups in your drains and sewer lines is a professional cleaning. Plumbers Oshawa use state-of-the-art hydro jetting equipment to blast your drains and sewer lines with extremely high-pressured water that clears any and all blockages in its path. The end result is a clean, perfectly functioning drain or sewer that exits the water from your home safely and efficiently.
Need a Plumber in Oshawa?
Call us now.
905-721-1114