Local Plumbing Repair Service You Can Trust

With 20 years of experience in the industry, Drain Rescue's trained plumbing specialists have seen every plumbing issue in the book! Each of our plumbers is highly skilled and fully licensed, providing a professional and reliable plumbing repair service – every time. We can be at your door in just one hour and our insured plumbing technicians in Toronto are always happy to provide you with a free, no obligation quote. When you choose Drain Rescue Plumbers, your issue is always solved and you walk away feeling good about the quality of service you received.

Plumbing Repair Needs are Inevitable
Sooner or later, every home faces a plumbing service repair. Sometimes it's an elective choice, such as upgrading outdated fixtures, unclogging a toilet or installing a new shower. Other times it's an emergency plumbing repair that is unexpected and unforeseen such as a leaky faucet, a running toilet, or a broken, burst or frozen pipe. No matter what your situation, our 24-hour residential and commercial plumbing repair service in Toronto is ready to help. Before you know it, your home will be as good as new again.
Residential Plumbing Repairs and Home Inspections

Did you know that performing a plumbing home inspection on your property can help you save money in the long run? When you can identify potential plumbing issues before they occur, you can avoid unnecessary costs. So whether you need a licensed Toronto residential plumber to make a plumbing repair or to provide you with a free, no-obligation inspection, contact us today. 

Commercial Plumbing Repairs
Is it time for your regular plumbing repair inspection at your personal office or business location? Contact Drain Rescue Plumbers for a fast, accurate and trustworthy service.
Our free commercial plumbing inspections include:
Visual inspection of all plumbing system fixtures and settings
Visual inspection of caulking, alignments and valves
Detailed analysis of any and all repairs needed
Reports on leaks, clogs and performance issues
When You Need an Emergency Plumbing Repair…

First, our licensed plumbing contractor provides a complete plumbing inspection. At Drain Rescue Plumbers, we provide emergency plumbing repair services 24 hours a day, 7 days a week. And we do it right the first time! With a full staff of licensed, trained and warranty-backed plumbers, a technician can be at your doorstep in under an hour with a fully stocked truck, a clean uniform and a smile.

A Wide Range of Toronto Plumbing Repair Services
There is no limit to the plumbing repair services we are qualified to offer:
Tap installation and faucet repair
Sink replacements in the kitchen, bathroom and laundry room
Bathtub and shower replacements
Kitchen garburator repairs and replacements
Water valve and main shutoff valve replacements
Outdoor tap and hose bid servicing
Frozen pipe burst repairs and pipe thawing
Bathroom plumbing renovations (new bathrooms or existing plumbing updates)
When we say we do it all, we really mean it!
Can't find your specific plumbing issue on our site?
We're Fast, We're Local and We're Good
We understand better than anyone that speed and quality make the world of difference to our customers. And that's why we're a Toronto plumbing repair service available around the clock. Any day of the week, any time of day, contact Drain Rescue Plumbers for a free estimate and emergency service.
Call us directly or email us right through our website.
We'll send one of our qualified plumbing experts to your location for a full inspection of your problem.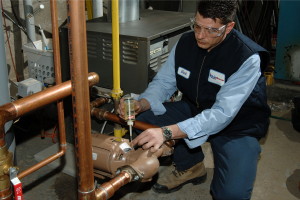 Testimonial
Installation of New Shower and a Bent Pipe Repair
"I needed repairs to the pipe in the bathtub area, a complete replacement of my shower and sink faucet, and the installation of new flex lines. Service was performed promptly and efficiently."
– June Kellner, Toronto