Looking for a Professional Sewer Cleaning Company?
If you've never had a sewer issue, you might be wondering why sewer line cleaning is so important. Think of it this way: your sewer line leads out of your home and flows into the municipality's water system. In other words, your sewer line is your first line of defence against flooding in your home. And if you maintain it consistently and properly, you're more likely to avoid unnecessary floods on the interior of your property.
A blocked sewer line leads to stagnant, contaminated water inside your home. Main sewer line backups can actually put you and your family in danger.
How to Keep Your Sewer Line Running Smoothly
Clogged sewer lines can cause a number of issues including sloping, leaking and damage. Regular sewer cleaning is important if you want to maintain your sewer line and protect your home from unnecessary backups, leaks, flooding and other potential problems. Sewer cleaning services from Drain Rescue  work to clear your sewer line of any grease, tree roots and general waste.
In a worst case scenario, we may discover that your sewer line needs more than just a thorough sewer cleaning. If a repair or replacement is required, Drain Rescue can perform the task right on the spot, eliminating the need for any further wait times that may result in bigger problems.
Sewer Cleaning and Inspection
At Drain Rescue, not only do we recommend that you clean your sewer line regularly, but we also suggest sewer line inspections to our customers. Particularly if you live in an older home or if you haven't had your sewer line cleaned in quite some time, an inspection is a smart move. This can help us diagnose any current issues in your sewer line and possibly even prevent future, costly damages by catching minor, easy-to-fix problems sooner.
Our licensed and insured sewer expert ensure that sediment is not building up in your pipes, and that there are no other clogs or obstructions posing danger to the drain system. A proper sewer cleaning can also rectify small backup drain issues before they get completely out of hand, causing serious and dangerous blockages.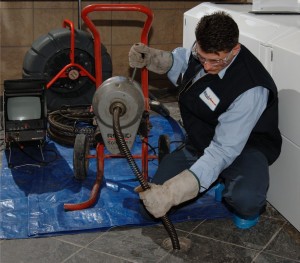 Other Sewer Line Issues and Fixes
Especially common in old iron sewer lines, cracks appear. In such a case, replacement isn't always necessary and these cracks and leaky areas can simply be sealed off as a way to buy the homeowner a little extra time. But it's important to note that this is a temporary measure and a more permanent solution should be planned to avoid a larger, future catastrophe.
If ever we need to get a better view of the inside of your sewer lines, Drain Rescue uses a tiny camera that is fed through your sewer line using a cable. This advanced tool helps us locate and dissect the exact source of the problem. If there are tiny cracks or leaks, we seal them up right on the spot. If you have problems related to sloping, we can correct those too. Most importantly, sewer inspections and cleanings can mean the difference between spending thousands in damages and catching issues before they happen.
Testimonials
Sewer Drain Cleaning of Blockage
Amazing service by a very professional and informed technician. Dwayne was very thorough and informative. The service call was promised to arrive within an hour and the technician arrived promptly and went right to work analyzing the situation and rectifying the issue. I will definitely use Drain rescue again for my plumbing needs.
Total out side sewer blockage
I had a company come in to redo my driveway had them also pave up the side of the house. When they were excavating they took out the out side clay clean out pipe for the sewage they did not recap it properly when they back filled rocks fell in eventually building up and blocking off all sewage from the house. I called drain rescue to diagnose problem Bill came out scope the drain out with camera to find rocks and gravel blocking mean pipe to street. Next day they showed up to dig down six feet remove block pipes replaced with new PVC things are now working great. I highly recommend this company very fast and quote was accurate thank you Bill Patrick for all your help.
Tim from Ajax