Waterproofing Your Basement Foundation
A flooded basement can be a dangerous situation. If you're living with a leaky or wet basement, all it takes is one rainfall to send gallons of water into your living space. This leaves you with a huge mess to clean afterwards, not to mention the fact that you need to pay for damages and maybe even part ways with valuable possessions that didn't survive the event.
What Causes a Leaky Basement?
There are many reasons why your basement might be wet or leaky – and there are many solutions to the problem. A trusted plumbing technician can help you determine the source (or sources) of your problem and find the solution that's right for you.
Excess moisture might be coming from:
Clogged gutters
Leaky basement windows
Groundwater leaks brought on by an elevated water table
Capillary action, which sees groundwater wick into the basement floor
Wall cracks
Hydrostatic pressure, which forces water through the walls from the soil surrounding the foundation
What are the Best Home Waterproofing Measures?
A trained and experienced waterproofing specialist – who has seen leaky and flooded basements more times than they can count – is able to suggest a number of ways you can waterproof and protect your home, such as:
Sump pumps
Backwater valves
Lowering of the water table by creating drains
Utilizing waterproof sealants and paints
Fixing wall cracks
Keeping your basement waterproofed and dry is vital if you want to maintain the integrity of your home and prevent serious damage. So many homeowners don't realize that when a basement is flooded, not only are you out of pocket thousands of dollars in damages, but you also run the risk of lowering the value of your property. Prevention is the best tool. Let a professional at Drain Rescue help you protect your most valuable investment.
Interior and Exterior Basement Waterproofing
If you're lucky, the source of your leaky basement issue will be completely obvious, such as a foundational crack. If you do have a crack, it may be the result of exposure, extreme temperature changes or shifts in the ground. Once you or a professional plumber locates the crack(s) in your basement, work can begin to repair the problem at the source, and restore your basement to a leak-free and dry state.
Drain Rescue's waterproofing services are designed to stop all water from entering your home – no matter what the cause.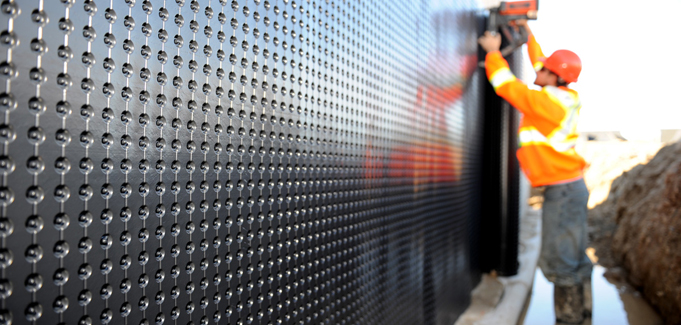 Foundation Crack Repair Services
Drain Rescue repairs foundation cracks by using a method that fills the crack with a solution, typically resin, which is injected into the crack through injection ports. Injection ports should be drilled over 6-8 inches, along the whole length of the crack. The area must be cleaned and resurfaced to ensure that the crack and the immediate area around it are free of all possible debris and dust. The injection ports and the crack are then covered by a cement mixture which acts as a sealant, keeping the resin, injected through the ports, contained as it fills the crack.
Once everything is dry, the ports are snapped off, the wall won't cause any further damage and the surface can be refinished to match the rest of the basement. Foundation cracks are a relatively quick fix, and can usually be repaired by one of our trained expert in a single day.
Wet Basement Issues
If your basement is wet, your home is at risk for water damage. You need to find the source of the problem as soon as you can and make any necessary repairs in order to avoid flooding.
At Drain Rescue, we're professional plumbers but we're also waterproofing specialists. Before we recommend or do anything, we carefully inspect your basement. Spotting potential issues ahead of time enables us to help you avoid further damage to your home. Wet basement problems are often foundational, but whatever the source of the wetness, we'll find it. Our service is thorough and innovative, delivering solutions that are effective and priced competitively.
Expert Waterproofing Contractors at Drain Rescue
Our waterproofing expert have been solving waterproofing problems for homeowners just like you for over 20 years. All waterproofing services are performed by a team of highly trained professionals who are certified, licensed, and fully insured. Our work is 100% guaranteed.
We offer waterproofing estimates free of charge and present a complete package of all the waterproofing solutions you have at your disposal. This way you can make an informed and educated decision.