How do I Protect my Home from Flooding?
If you've experienced a basement flood you know how devastating and costly it can be. Dealing with the aftermath of a flood can be emotionally, physically and financially draining. Luckily, today's plumbing technology has given us a way to protect our homes from floods before they even occur.
Install a Sewer Backwater Valve (BWV) in your Home
A mainline backwater valve installation (BWV) is the best solution to protect your home from sewer backups and floods. Working as a back flow preventer, a sewer backwater valve is a small device about the size of a backpack. This little, yet remarkable device stops the flow of water into your home and removes any excess, keeping your basement dry and your home free from damage.
Once it's in place, your sewer backwater valve installation gives you complete peace of mind knowing that any kind of water backup headed for your basement will be blocked and deflected. It's critical that the flow of water be stopped immediately because once it starts to enter your property, the damage is already done and it's too late to turn back.
Backwater Valve: How it Works
Backwater valves respond to water pressure. If the valve feels pressure coming from the wrong direction, its immediate response is to shut tight and disallow any flow-through. This "automatic shutoff" works to protect your home from water build-up that occurs because of heavy rainfall or because of sewer backups from the municipality's plumbing system.
Professional Backwater Valve Installations in Basement
Let's say you live in a flood prone zone. Or maybe your area is known to receive heavy rainfalls at least once a year. Guess what? It's already worth it to invest in a backwater valve for your home. When it comes to floods, it pays to take whatever protection measures you can ahead of time.
Installing backwater valves is complex and intricate work that also requires a city permit and inspection. You need a trusted, licensed and experienced  plumber to do the job. At Drain Rescue, we handle the permit acquisition, book an appropriate time with you and perform the backwater valve installation right away. Once the installation is complete, we arrange for a city inspection and provide you with the necessary rebate forms to submit for participation in the  backwater valve subsidy program – in other words, get a little money back!
How Backwater Valves are Installed
Once all setup procedures are complete and the necessary paperwork has been attained, Drain Rescue books a convenient time for the backwater valve installation.
We dig through the cement in your basement floor. (In order to avoid damage and ensure precise and correct work, this must be done by a trained plumbing professional.
Your sewer line is replaced. (This is the pipe that connects all the water sources and depositories throughout your home.)
We install the backwater valve along the new sewer line.
From this point forward, your backwater valve acts as your defence mechanism against future flooding. When water tries to re-enter your home, your BWV stops it.
A Backwater Valve Installation Isn't All You Can Do to Protect Your Home from Flooding
The installation of a backwater valve usually coincides with the installation of a sump pump and both require the removal of weeping tile. Drain Rescue has a team of highly experienced plumbers who can help you with backwater valve installation and sump pump installations.
Maintenance is Important
It isn't enough simply to install a backwater valve and leave it be. Like anything else, it's critical that you maintain your backwater valve to ensure proper function and durability.
Over time, the flap of your backwater valve may begin to leak and become prone to cracks. If it does crack, you need a repair right away. Your backwater valve lid is actually removable, which makes it convenient for you or a professional plumber to have a quick look inside. When Drain Rescue conducts backwater valve inspections, we check that the flapper (as well as the gaskets on the flap and lid) is intact and moving freely.
After heavy rainfalls, it's a good idea to check the condition of your backwater valve since sometimes the switch can flip as a protection measure. This means that if it isn't flipped back, water cannot drain out of your home.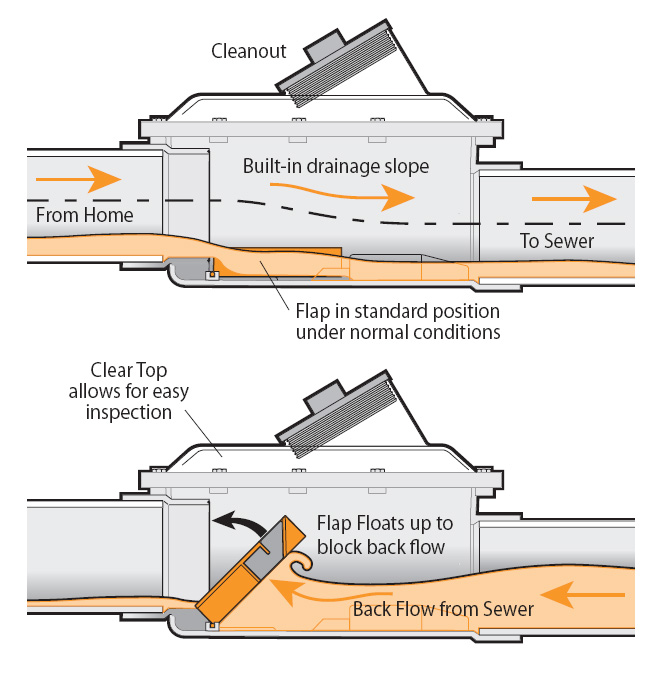 Testimonials
Mark Perry from Hamilton
Lateral Sewer Line Replacement and Backwater Valve Installation
After having the city replace a sewer lateral waste line, I had 3 estimates done to replace the pipe from my house to the city line. All estimates were to blow in a sock through a clay weeping system to meet the city line. All the estimates were within 100 dollars or so of each other. Drain Rescue suggested to dig up and install a solid plastic pipe to join to the city line. Glad I did the job properly. No more tree roots every year and clogging up drains. They also did my backwater valve. They assisted me with all paper work to deal with city rebate programs that are available. They did a great job as well as back filling properly laying down drop mats and cleaning up after themselves. Thanks Dwayne and crew.
Backwater valve Installation
Stephan arrived to installed and replace our basement plumbing parts. Our sewer system had been backing up for awhile, so we called Drain Rescue Plumbers. We were worried out basement would start to flood if we didn't fix the problem soon. It took about 4 hours to get everything working properly and the mess avoided. I was worried about contacting a plumber for this, since there have been terrible stories. But after calling this service, I will gladly call them again if we have any problems with the plumbing. Thanks guys!
Bonnie Rondeau from Old Toronto