Scarborough, Ontario
Plumber Services
Trusted Scarborough Plumber Since 1997
Providing residential and commercial plumbing services to the Scarborough area since 1997, Drain Rescue Scarborough plumber is no stranger to the area. Not only is our team skilled and experienced, but we also have knowledge about Scarborough's city-specific bylaws and water sewer line structures. And this gives us the ability to provide the most accurate plumbing services according to your home and its location.
When There's an Emergency, We Get There First
Not all Scarborough plumbers can say they're available 24 hours a day, 7 days a week. But at Drain Rescue Scarborough plumber, this is one of the services we're most proud of.
Our emergency plumbing repair services in Scarborough are available around the clock, every single day. Our 24-hour phone lines are open and ready to receive your call. Whether you're experiencing a drain blockage, a fast flowing leak or a wet basement, one of our emergency Scarborough plumbers will be at your doorstep within just one hour. In any plumbing emergency, we focus on fast response times and efficient service so we can rectify the issue quickly and minimize the damage to your home.
Need Your Drains Cleaned?
Sometimes determining what plumbing service you need isn't cut and dry. Since your home plumbing system is hidden from sight, in many cases, it can be difficult to figure out that you even have a problem in the first place. But there are a few indications that you might be due for a professional Scarborough drain cleaning service:
Do you smell something putrid when you run water from certain taps?
Do your sinks seem to clog often?
Is your shower drain moving slowly?
Are you experiencing a floor drain backup in the basement?
If you answered yes to any of these questions, it may be time to have your drains cleaned. We use industrial-grade hydro jetting equipment that blasts water into and throughout your drains, clearing all unwanted clogs, blockages, grease and grime build-ups. When our work is complete, you have pipes that are restored to good working order that can effectively and efficiently remove water from your home.
Home Waterproofing Services in Scarborough
Waterproofing is a service more and more homeowners are investing in. Flooding and water damage in your home can be costly, time consuming and absolutely heartbreaking to deal with! Floods often destroy irreplaceable items, and permanently damage furniture, floors, walls and so much more.
Drain Rescue Scarborough plumber offers a wide range of waterproofing services including wet basement solutions, foundation crack waterproofing, foundation repairs and the installation of backwater valves and sump pumps that can actually detect excess water in and around your home and stop its flow into your property. There are many options and our team of experienced Scarborough plumbers is happy to come to your home, conduct a thorough inspection and then make specific recommendations on the best course of action to waterproof your property and protect you and your family from floods.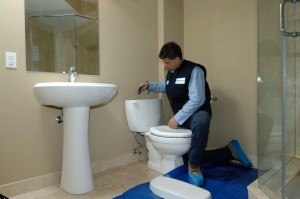 Ready for a positive experience with a Scarborough plumber?
Call us now.
416-690-5333