Do You Need a Toronto Water Heater Repair Service?
The water heater in your home is an appliance you use all year round. Think of every time you wash your hands in the sink or take a hot shower or bath. It's your water heater that heats up the water in your plumbing system to then supply you with hot water when you need it.
Does the water in your home take forever to heat up?
Does your water heater make noises such as banging or clicking sounds?
Is the water that comes out of your taps and faucets colder than usual?
You may be in need of a water heater repair. And if your water heater stops working for whatever reason, it's likely that you'll first notice your loss of hot water when you use your taps or faucets.
The Importance of Your Water Heater
Even though you probably don't pay much attention to your water heater, it's more than just that large, round, cylindrical device stored in your furnace room, garage or utility closet. In fact, your water heater is a vital component of your home. When it's running properly, your home's water is heated efficiently and you receive a regulated water bill incrementally throughout the year.
The Basics About Hot Water Tank Models
Knowing enough about your water heater system is important because you never know when you'll be required to use the knobs to make certain adjustments or even clean your unit to protect it from corrosion.
Most plumbing technicians have the know-how and skill to thoroughly clean your water heater unit. To protect it from damage, this is very important. After any technician performs a water heater repair or a new installation, make sure all water heater unit pumps, valves and knobs work well.
Did Your Water Heater Bill Spike?
If you notice a sudden spike in your water heater bill, then it's probably a good time to check the condition of your water heater. If it is faulty in some way or simply outdated, your water heater repair likely needs to be fitted for new gauges, heat lamps or other devices.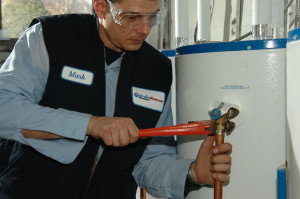 Common Water Heater Problems 
Toronto homeowners can find themselves faced with any number of water heater issues, but a few of the most common are:
Water heater leaking (sometimes from the top)
Water heater drain valve dripping
Water heater draining
If it is well maintained, a water heater can last a for very long time. But, if your water heater is not repairable and needs replacement, be sure to call a professional plumber immediately because your safety depends on it!
Be Proactive and Get a Water Heater Inspection
Avoid costly repairs and replacements in the future and take the proactive approach to your water heater maintenance. Call Drain Rescue for a FREE water heater inspection and we'll tell you on the spot the condition of your current hot water tank and whether or not you need a water heater repair, upgrade or replacement.
Book a water heater inspection appointment today.
Water Heater Repair and Installations in Toronto
Installing a new water heater is extremely complicated.  Only a certified plumbing professional should be the one to do it. If you are experiencing problems with your water heater, turn off the water in your home from the main water valve. When your hired plumber arrives, this is likely the first thing they'll ask you to do.
Using a faulty water heater in your home is problematic for a whole host of reasons. So, when your new water heater is installed you'll notice the difference right away, whether you're running hot water in the kitchen or taking a bath upstairs.
Ever had to take an icy cold shower? Well, if you start to notice a lack of hot water in your home, it won't be long before there's none at all. And this is why you need to call in a licensed Toronto plumber right away. Don't risk waiting only to find yourself without hot water for days. Water heater installations typically take several hours but a Drain Rescue plumber can be at your door within an hour to get started! 
The Benefits of a New Water Heater Installation
A new hot water tank installation isn't necessarily a bad thing. There are many benefits. Newer water heater models are:
More efficient (a replacement may go so far as to lower your bills)
Faster at heating up your water (you won't need to wait to get hot water from a sink, tub or shower)
Equipped with gauges that are easy to read and are able to start up immediately when you want hot water – no delay!
Do a Walk-Around Check of Your Water Heater
Check for leaks. Walk around your water heater. Leaks should be taken care of right away to avoid bursts and the potential release of toxic solutions.
Does the thermostat work? If not, you can use the manual controls and replace the thermostat later.
Run a test to see if the water heater alarm is working correctly. Check the indicator to evaluate the thermostat noises and to determine whether or not they are a problem.
Is your water heater installed in a good place? There should be enough space all around your water heater to ensure there are no restrictions.
If you notice anything that isn't quite right, call a Toronto water heater repair service right away.
Testimonial
Copper Pipe Above Water Heater Repair
I am writing this letter to express my gratitude for your plumber's (Pat) great work when he came to my house. I had a leaky copper pipe above my water heater and he fixed it in no time. All the other companies I called pretty much cut me off when said "water heater repair" and explain that they didn't do that kind of service…
Leak Above My Hot Water Tank
I had a leak coming from the copper piping directly above my hot water tank. I called a bunch of other plumbing companies and they all said that "we do not repair hot water tanks". The lovely dispatcher at Drain Rescue was the only one that allowed me to finish and FULLY EXPLAIN my problem…
Think Drain Rescue is the right choice for your water heater repair?