Sinks are an Important Part of Your Home's Plumbing System in Toronto
Your bathroom sinks, kitchen sinks and laundry room sinks – they all work together and work with the rest of the plumbing parts in your home. It's the job of your sinks to remove water and waste.
Choose Your Sink Wisely
When it comes time for you to select a sink for your home, think it through. Quality is important. You want a sink that will do its job well and last a long time. With a good sink and proper maintenance, there's no reason why your sink can't work perfectly for many years to come, providing and removing water as needed.
Is Your Sink Drain Clogged? 
If water isn't draining out of your sink quickly or if you often find water stains or particle remnants in the bottom of your sink, this might mean you have a clogged sink drain that needs repair. Repairing clogged sink drain can be difficult and cumbersome – especially for the average homeowner! Instead, why not call a licensed Toronto plumber you can trust? Don't wait for the clogged sink drain to get worse. Get a professional to make the repair right away. It'll save you money in the long run by avoiding unnecessary replacements and removals.
Clean Your Sink Drain Regularly to Increase its Lifespan
Did you know that by regularly and thoroughly cleaning your sink you can actually improve daily function and make your sink last longer? Proper cleaning clears your sink of hair, particles and grease – terrible culprits for clogging! A lack of sink maintenance can lead to corrosion and other parts of your plumbing system can even start to show damage.
When a sink is clean, it's able to flow water and waste through the drain lines and plumbing. This is how your home's plumbing system should work. With all parts installed properly, everything functions well. And as a result, you'll enjoy years of worry-free plumbing in your home.
Economical Clogged Sink Drain Repairs in Toronto
Over time, sinks can become rusty, cracked or damaged. And this means they either need a repair or replacement. If possible, Drain Rescue always opts for a professional repair because this saves you time and money. Over the years, we've found that most sinks are made to last. With the right tools and know-how, even a clogged sink drain or a sink with drain problems can be restored back to a healthy, functioning state. And you won't need to spend unnecessary money replacing it.
BUT…
It's best to hire a knowledgeable, experienced plumber to do the job.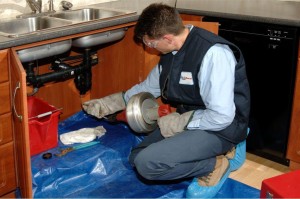 Expert Toronto Sink Plumbers to the Rescue
Licensed plumbers know the best practices to perform sink repairs properly. At Drain Rescue, our trained plumbers are qualified to provide a wide range of sink related plumbing repairs for clogging and drain issues, including:
Sink repairs
Sink replacements
Sink installations
Sink replacement hose installations
Double sink repairs
Kitchen, bathroom and laundry sink drain repairs
We assess the current condition of your sink.
We give you a free, no obligation estimate.
We walk you through exactly what's required.
Contact us today.