Drain Cleaning Services
Unfortunately, all drains are subject to clogging. And a clogged drain doesn't work properly. If you find that a drain in your home is not draining well or you suspect a clog, it's time to call a drain cleaning service in Toronto.
At Drain Rescue Plumbers, our licensed technicians provide thorough drain cleaning services to make sure your water is flowing as it should and that no further damages occur. If we find that a professional drain cleaning service simply won't do, we may need to perform a drain snaking service or replace your drain altogether.
The Role of Drain Lines in Your Home
All homeowners should know how the plumbing, vents and drain lines work in their homes.
Typical drain cleaning lines are the pipes that control the flow of liquids out of your home. For example, think of the drain underneath your kitchen sink. This drain actually flows into the main drain lines and water is pushed through your plumbing out of your home.
Your drain lines are critical to the overall working function of your home's plumbing system. And this is why it's important to hire a drain cleaning company you can trust as soon as a problem or potential problem arises. Proper pipe installations and drains cleaning are absolutely necessary.
Drain Line Installations
Installing drain lines is a complex job and one that should always be performed by a licensed plumbing professional. In order to install new drain lines safely and properly, there are many tools and parts that are required – not to mention all the plumbing work that goes into it! In other words, we don't recommend that you try this on your own. If you suspect the need for a full drain line replacement, contact a licensed Toronto plumber to do the job.
Why You Need a Professional Drain Cleaner in Toronto
A clogged drain is far from a quick-fix job for the average Toronto homeowner. If you're like most of our customers, plumbing is something you just don't experiment with! The drains in your home are located between your walls and underneath your floorboards. You can't see them, and therefore, it's extremely difficult to fix their problems if you don't have the right tools, safety equipment and expertise. Are you ready to break down the walls in your home just to see the drains you need to fix?
Plumbing is no joke. There are safety hazards and huge potential damages to every job. And this is why, when the problem is extensive, it's best to leave the fixing to a licensed professional.
Check and Test Your Drains and Plumbing System Frequently
All drain and plumbing systems should be monitored on a regular basis. This way, you'll always know whether or not your drain lines are working correctly. There are simple signs to look out for that may indicate a problem. For example, slowly draining water, water back-ups and clogging.
If you suspect an issue, it's time for your drains to be flushed by a professional. At Drain Rescue, our drain flushing services in Toronto are powerful and effective, removing all particles and blockages.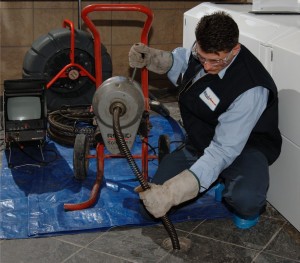 Testimonials
Drain Cleaning Toronto
Denys the plumber came promptly at the time he said he would, examined our drain and quoted us the price. He did his job efficiently, professionally and courteously! He gave us some vital information regarding our drain cleaning and was extremely knowledgeable and polite. Without hesitation would recommend Drain Rescue and Denys!
May 16, 2013, Old Toronto
Flooded basement-Drain Cleaning
When I came home from work last Tuesday I was surprised with 2 inches of water in my basement. I'm a single person with not much experience in the plumbing department so I asked my neighbour what to do. He recommended Drain Rescue (they've done work for my neighbour before). I called and the plumber was in my home in about 45 minutes. He had a big snake machine with him that cleared my drain (since it was blocked) and got rid of the flood. I am very happy with the service and would be more than happy to recommend them to anyone else.
Monica Krank from Old Toronto
Think your drains could use a professional cleaning?
Contact us today.