Ajax, Ontario
Plumber Services
Looking for a Plumber Ajax?
For over 18 years, Drain Rescue plumbers have provided trusted plumbing services to the Ajax region. Plumber Ajax understand that every family's home and every company's place of business is unique. Plumbing is intricate and complex, and the source of any given problem isn't always easily identified. Our team of Ajax plumbers is knowledgeable and experienced, offering a plumbing service based on strong principles of accuracy and quality.
Ajax Plumbing Services
Drain Rescue plumber Ajax is a complete plumbing service for Ajax homeowners just like you. Whether you need drain cleaning services, a sump pump or backwater valve installation, or a professional plumber Ajax to visit your home and help you identify the root of your plumbing problem, we provide a service you can count on.
Enjoy Peace of Mind
With each and every visit, Drain Rescue's Ajax plumbers demonstrate trust, reliability and strong workmanship. Plumber Ajax know how challenging it can be to find the right plumbing experts. One bad decision can mean poor quality work and maybe even bigger problems down the road.
Our team of skilled and friendly plumbers in Ajax focuses not only on getting the job done right, but also on putting you and your family at ease. Within the first few minutes, you'll know that you're in good hands with Drain Rescue.
Need an Emergency Plumber in Ajax?
We're on call 24 hours a day, 7 days a week. No matter what the emergency and no matter when it strikes, we'll be at your door within an hour. Contact Drain Rescue for emergency residential and commercial plumbing services in Ajax and surrounding areas including Lakeside, Clover Ridge, Applecroft, Riverside and Uxbridge.
Free Estimates and Competitive Rates
The most important part of any plumbing service is the ability of the plumber to diagnose the issue and identify the source of the problem. Our team of Ajax plumbers takes the necessary time to visit your home and thoroughly evaluate the issue. From here, we provide you with a free, no-obligation quote and assessment. This way, you can make an informed and educated decision.
One of the most common plumbing needs among homeowners is drain cleaning. Drain Rescue uses specialized hydro jetting equipment to provide professional drain cleaning services to fix clogged drains, clogged toilets, sewer backups and kitchen sink drain backups.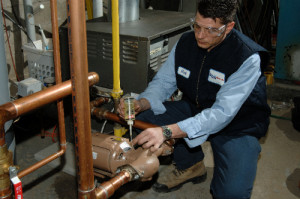 Tim from Ajax
Outside Sewer Blockage
I had a company come in to redo my driveway. We had them also pave up the side of the house. When they were excavating they removed the outside clay clean out pipe for the sewage. They did not recap it properly. When they back filled rocks fell in eventually building up and blocking off all sewage from the house. We called Drain Rescue plumber Ajax to diagnose problem. Bill came to scope the drain out with a camera and found rocks and gravel blocking the main pipe to the street. The next day they showed up to dig down six feet and remove the blocked pipes. They replaced the old pipes with new PVC pipes and things are now working great. I highly recommend this company. Very fast and the quote was accurate. Thank you Bill and Patrick for all your help.
Need a plumber Ajax who's trained, licensed, bonded and insured?
905-427-0003